NIEUW: heerlijk ontspannen met uw kleintje
Geef uw baby ultieme ontspanning met een heerlijke massage en floatsessie bij Résidence Terschelling. Onze Baby Spa sessies zijn niet alleen ontspannend voor uw kleintje, maar versterken ook de band tussen u als (groot)ouder en uw baby. Het geeft uw kleintje hetzelfde veilige gevoel als in de baarmoeder en heeft vele andere voordelen.
Of u nu op vakantie bent of op Terschelling woont, maak een afspraak voor de ultieme ontspanning en quality time samen met uw kleintje.
Quality time en ontspanning
Babyfloat sessie
Ontspannende babymassage
Fijne band tussen (groot)ouder en baby
Vanaf ca. 2 weken tot 1 jaar oud
De enige Baby Spa op Terschelling
Duur circa 45 minuten
20-30 minuten floaten
Inclusief gebruik hydrofiele doeken
Koffie en thee
Baby Spa Deluxe (inclusief een heerlijke massage)
Duur circa 60 minuten
20-30 minuten floaten
Inclusief een baby massage
Tijd om te voeden tussendoor
De babyspa helemaal voor jou alleen!
Inclusief gebruik hydrofiele doeken
Koffie en thee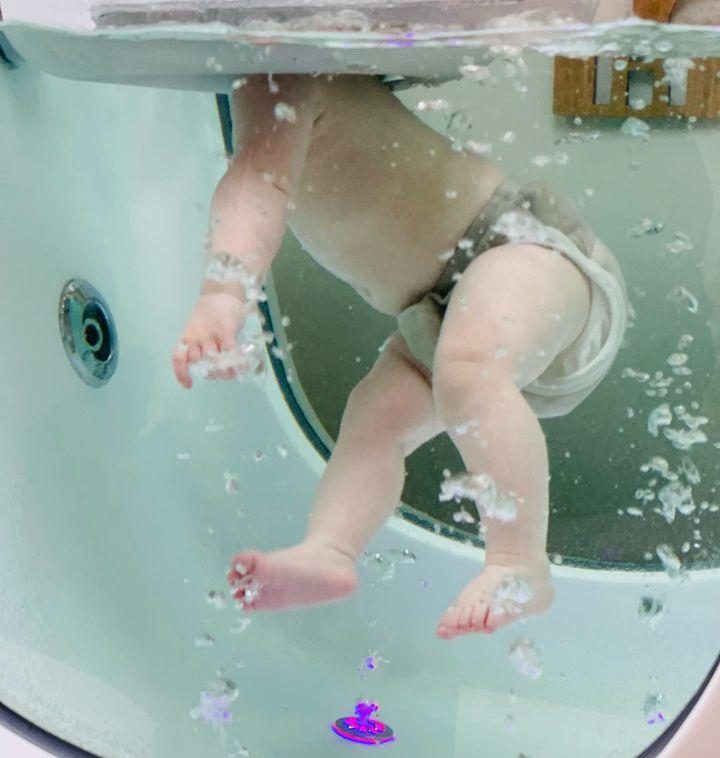 Alle voordelen van de Baby Spa op een rijtje:
♡ Het warme water werkt kalmerend en bevordert zo het slaapritme
♡ Het zorgt voor balans en coördinatie
♡ Verlaagt stress en bevordert gelukshormoon
♡ De warme tegendruk van het water helpt tegen krampjes en werkt mee aan de spijsvertering
♡ Uithoudingsvermogen; trainen van de longen, spieren en het hartje van je baby
♡ Extra fijn voor premature baby's. Het helpt trauma's verwerken en stimuleert de ontwikkeling
♡ Versterkt een fijne band tussen ouder en baby